Stop Now And Plan (SNAP)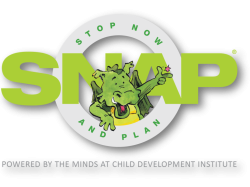 What is SNAP®?
SNAP®, which stands for STOP NOW AND PLAN, is an evidence-based, cognitive-behavioural model powered by the minds at Child Development Institute (CDI). SNAP® helps troubled children and their parents learn how to effectively manage their emotions and 'keep problems small'.
The gender-sensitive SNAP® Boys and SNAP® Girls programs are designed for children ages 6-11 who are engaging in aggressive, anti-social behaviour and/or have come into contact with authority figures at school or in the community. Experienced and highly trained staff work with each family to assess challenges and problems and develop an action plan. Children and families may participate in this program, with the goal of preventing future anti-social behaviour and reducing the chances of conflict with family, peers and authority figures.
Who should attend SNAP®?
Boys and girls ages 6-11 experiencing serious behavioural problems at home, at school, with persons in authority, and in the community are referred to these programs.
Presenting problems may include:
Difficult family relationships
Physically aggressive behaviour
Angry outbursts
Verbally aggressive or defiant behaviour
Lacks self-control and problem solving skills
Has difficulty making and maintaining healthy relationships
Stealing
Bullies others
Vandalizes or damages property
For more information contact us at 250.832.2170 ext. 119
Learn more about the program at www.stopnowandplan.com